With the Gonzales Team's Comprehensive website, you will be able to search all homes for sale in Henderson and Las Vegas Area in Your Price Range
Integrity ♦ Trust ♦ Service
The Gonzales Team of Keller Williams Realty has been selling Henderson real estate in the Las Vegas Valley and  surrounding areas since 1995. As local agents with more
than 20 years of experience, we have been able to put together this complete high tech user friendly online real estate guide to help you buy or sell real estate in the Henderson and Las Vegas Valley. On this site, you will be able to search all available listings in Henderson, Las Vegas, Boulder City, North Las Vegas, and all the areas surrounding Las Vegas. We know that not only home buyers search the value of homes, Sellers also like to see current sold homes in your neighborhood so we have added that upgraded feature to our search system.
You will be able to search traditional sales, foreclosures, short sales, and even auction properties. With our online comprehensive system, you will never miss out on a property ever again!
Henderson Homes for Sale
Search all Henderson homes for sale in your price range
Las Vegas Homes for Sale
Search all Las Vegas Listings in your price range
Unlike other search sites, the MLS listings on our site are updated daily and do not contain "pending" or "Contingent" properties that are already  in escrow. This eliminates hours of wasted time and frustration.
Comprehensive Online Search Tool
Our complete online search tool utilizes the latest technologies, market research and business strategies to exceed your expectations. More importantly, we listen and that means we have found solutions that allow you to tailor your search to your needs and wants. You will be able to find homes for sale by zip codes, by neighborhoods, or by school zones. You will also be able to narrow the search further by choosing the options for a pool, gated community, age restricted, size, number of bedrooms, age of homes, waterfront and even 1 or 2 story. When you submit the search you will receive a complete list of all available homes that match your search criteria. Then click on the desired home to view a detailed report of each available listing. Each detailed listing will contain the following information and more:
Maps and Directions: Quickly see where a house is located and driving directions to drive by before viewing with the Gonzales Team
Save Favorites: Save and keep track of your favorite homes in one convenient location.
Share with Friends: Share your favorite homes with friends and family with one click.
Mortgage Calculator: Figure out what your monthly mortgage payment would be instantly.
Area Information: Click on "Neighborhood" to view the area statistics for value, population, and  schools home is zoned for.
School Information: Click on "Schools" to get statistics, map and ratings on area public schools.
Details of Property: Details of square footage, rooms, appliances, yard size, views, community and much more.
Buy A Home Using our Complete Online Search Tool
First and foremost you will be able to sign up to receive free automatic updates on a daily basis so that as new listings come on the market you will be notified by email. This will be your search, not ours so you can control what you see or don't see in the search. With save and favorite features, you will also be able to keep track of homes you are really interested in.
You will find this website loaded with information on all available listings and master planned communities, established communities, new home communities, luxury estates, golf course communities, country club homes, high rise condos, retirement communities, custom home communities, gated communities, guard gated communities, or distressed properties such as short sales and bank foreclosures and any local amenities that will help you make an informed decision on where to buy. We have set up a personal concierge system with vendors to make all aspects of the purchase and move smoother. Including and not limited to utilities, moving companies, painters, electricians, title companies, home warranty, credit repair, mortgage companies, carpet cleaners and house cleaners to name a few.
Relocation
We have also helped many families relocate across the country so we have set up a relocation system within in our personal concierge system to help make all the aspects of the move across country smoother. We can help with vendors (moving companies, storage companies, job search, schools, etc.), all aspects of purchasing a home or selling a home while you are not in town, and use our high tech real estate programs to make the process easier on you during a stressful time.
Selling Real Estate Using our Comprehensive Online Marketing System
Thinking of selling your property? Because we are in the local Henderson real estate market every day we will be able to suggest the best strategies for preparing your property for sale. We have set up a high tech marketing plan that will aggressively market your listing daily to millions of people around the world. We market your home not only on the MLS but on all nationally syndicated real estate sites such as Zillow, Realtor.com, Trulia, Homes.com, Keller Williams Listing Site and 100's more search sites. We do daily online internet marketing to drive traffic to your listing storyboard. Most real estate agents do the minimum and just put your property in the MLS and call a yard sign up. The Gonzales Team goes above and beyond with our internet marketing and websites that are dedicated to selling your listing. All of this online content will ensure that your listing will easily be found on all the major search engines by more potential buyers. More buyers = a higher sales price and more money in your pocket!
Request your free Comparative Market Analysis and set an appointment to see why we should be your listing agent. Even if you are not quite ready to list your property we can set you up on an automatic Market Insider that will send you monthly statistics on the activity in your neighborhood. The Market Insider will contain a market analysis of the price trends, community info, and insider tips, and the ability to compare your area to other areas to see how your community stacks up. With the Market Insider report, you will be able to stay on top of market trends and make an informed decision when you are ready to sell your property.
 Veteran Clients
As  designated Military Relocation Specialists, the Gonzales Team, makes sure that our Veteran and active duty clients are aware of the latest Veteran benefits to help them with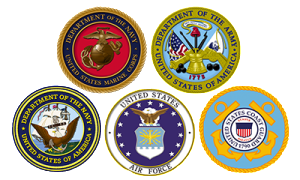 purchasing or selling a home.  Ernie Gonzales is a Veteran serving in the military for over 10 years and now is the Vice President of the local chapter of Veterans Association of Real Estate Professionals. Ernie is dedicated to helping Veterans so when Veteran home ownership was declining due to sellers not considering VA offers. Ernie lobbied the government to help raise awareness and change the Nevada Statutes to ensure that Veteran home ownership would continue.
With Nellis Air Force Base and many other military facilities located within the Las Vegas valley, we have helped many Veteran and active duty military clients buy or sell.
Commercial Real Estate
If you are relocating your business, starting a Veteran owned business, expanding and need a bigger location or even a second location we can help you find commercial properties. We subscribe to the Commercial only Multiple Listing Sites and can send you all the available commercial property listings that are hard to find online. We can also help you sell your commercial building or unit. In the downturn of the economy we have even helped business short sale their commercial properties instead of going into foreclosure.
How The Gonzales Can Help to Buy A Home or Sell A Property?
Thanks for starting your real estate search with us. This website is full of information whether you are looking to buy or sell real estate in Henderson.
We know most of our clients utilize the latest technology  to search for homes so we have set up a mobile app for you to download so you will always have the most up to date information at your fingertips wherever you are. We are also equipped to make videos of any property or neighborhood for any serious buyer who wants more information and can't travel to view it themselves. We have even done live "Facetime" for a walk through or even online "doc-u-sign" for our clients who are unable to be there. With technology anything is possible!
Please look around our informational website and feel free to contact us with any questions about the home buying process, our selling system or the local housing market. We will be able to help you find that perfect home whether you are looking for a starter home or a luxury multi million dollar mansion and anything in between because at the Gonzales Team our Clients come First!
The Gonzales Team specializes in residential and commercial real estate in the Henderson, Las Vegas, North Las Vegas, Boulder City and the following neighborhoods: Green Valley, Green Valley Ranch, Green Valley South, Grand Legacy, Anthem, Anthem Country Club, Sun City Anthem, Anthem Highlands, Madeira Canyon, Inspirada, Seven Hills, Terracina, MacDonald Ranch, MacDonald Highlands, Foothills at MacDonald Highlands, The Falls, Lake Las Vegas, Lake Las Vegas South Shore, Lake Las Vegas North Shore, Quail Ridge, Del Webb, Sun City MacDonald Ranch, Solera, Black Mountain Vistas, Calico Ridge, Tuscany, Silverado Ranch, Southern Highlands, Summerlin, Sun City Summerlin, Alliante, Painted Desert, Rhodes Ranch, Sienna, Queensridge, Veer Towers, Turnberry Towers, Desert Shores and many more .
 After you have had a chance to view our website, contact us so we can tell you more about how we can help you with your needs.

I want to earn your business and represent you when you sell or buy in the Henderson and Las Vegas area. We appreciate the opportunity to earn your business!